COMPETITION RULES & REGULATIONS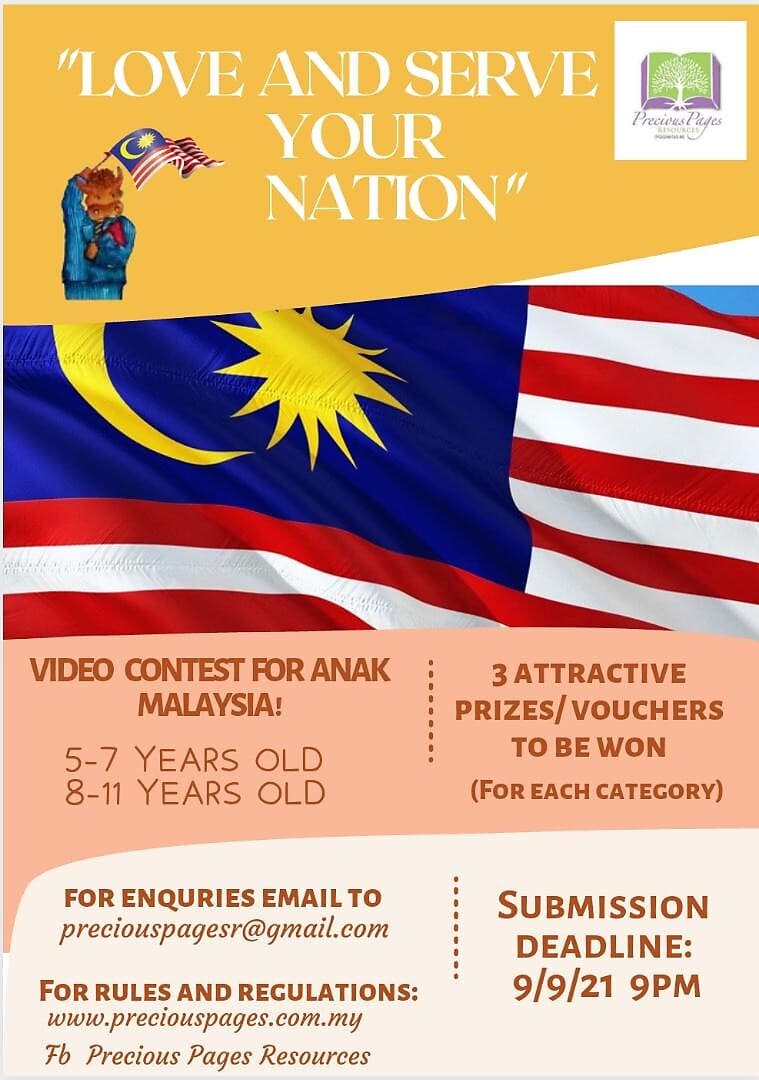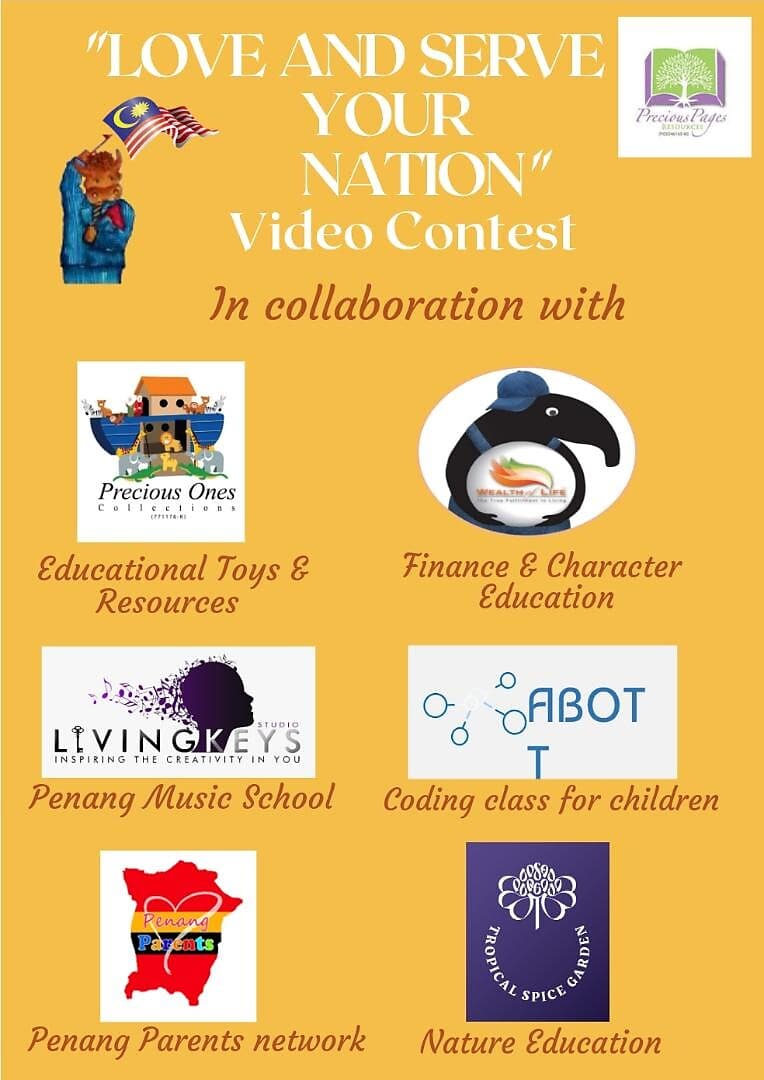 GENERAL
1. The competition is open to all children in Malaysia (registered birth in Malaysia).
There will be 2 categories for the competition:The 1st category is open to any child in the 5-7 age group.
Participants are to share 3 ways to love and serve the nation in video form.
The 2nd category is open to any child in the 8-11 age group.Participants are to share 3 unique ways to love and serve the nation in video form.
Find creative ways to present your video! You may show video of yourself or others (with their permission) or slides, animations, etc.
2. Entry is free of charge. Submission of an entry will be taken to mean acceptance of the Competition Rules. One entrant may submit only ONE original entry and the video is to be between 1 and 2 minutes.T
3. The entry must be accompanied by the online submission form.
4. Videos are to be uploaded as one single file in the highest quality to preciouspagesr@gmail.com
5. Submission deadline: 9pm on 9.9.2021
6. Winners will be informed through WhatsApp by 12pm on the 15.9.2021.
7. Employees of Precious Pages and immediate families are NOT ELIGIBLE for this Contest.
8. The Competition Rules may be amended or varied at any time by Precious Pages on notice. Precious Pages nevertheless reserves the right to cancel, terminate or suspend the Contest with or without any prior notice and reason. For the avoidance of doubt, any modification, cancellation, termination, or suspension by Precious Pages shall not entitle the Participants to any claim or compensation against Precious Pages for any losses or damages suffered or incurred as a direct or indirect result of such modification, cancellation, termination, or suspension.
9. The Competition Rules shall be governed by and construed in accordance with the laws of Malaysia and the courts of Malaysia shall have exclusive jurisdiction in relation to any disputes arising therefrom.
10.The organisers and judges reserve the right to remove any entries from the competition that they feel may breach any of the Competition Rules or may bring the competition into disrepute. Such entries will be disqualified.
COPYRIGHTS
11. Any entry submitted must be the work of the individual submitting it, although participants in the 1st Category can obtain the help of an adult where reasonably necessary.
12. The participant must have full copyrights to the submitted material, including sound effects and music if used. Competition submissions must not include any endorsements of products or services, or any obscene, violent, racist or defamatory content. Incomplete entries or entries that do not comply with the formal specifications will be automatically disqualified.
13. Submissions may also not be accepted into the contest if the video features an identifiable individual who has not given their consent to appear or if the image features advertising or trademarks which would otherwise require Precious Pages to obtain permission to use.
14. The copyright of the materials submitted for this competition remains with respective participants. However, each entrant grants Precious Pages the right to use the submitted materials on its social media for promotional, educational and/or any other legitimate purpose at the sole discretion of Precious Pages.
JUDGING CRITERIA
15. The judges will look for a creative, engaging and inspiring submission.
16. Your entry will be judged on:
Relevance of your entry to the competition topic;
Originality of the entry; and
Creativity and initiative expressed.
17. Precious Pages' decision is final. No correspondence in this regard will be entered into.
18. The top 3 competition winners (for each age category) will receive prizes worth RM150, RM100 and RM60 respectively.
19. Precious Pages reserves the right to select an alternative winner in the event that Precious Pages has reasonable grounds for believing that a selected winner has contravened any of these Terms and Conditions of entry. The defaulting entrant will be given the opportunity to express his/her observation on such a decision.
20. Precious Pages can accept no responsibility for entries lost, delayed, misdirected, damaged or undelivered.
21. Incomplete and/or illegible entries will be disqualified. Precious Pages shall not be responsible for technical errors in telecommunications networks, Internet access or otherwise, preventing entry to the competition.
22. The prizes are as stated and are non‐transferable. If due to circumstances beyond Precious Pages' control, Precious Pages is unable to provide a stated prize, Precious Pages reserves the right to award a substitute prize of equal value.
23. Any unclaimed prizes will be forfeited by 16.10.2021.
CONFIDENTIALITY AND PROTECTION OF PERSONAL DATA
24. For the processing of this competition, Precious Pages observes Malaysian data privacy law.
25. By entering the competition, entrants acknowledge that their entries may be used in publicity without further payment. Such publicity may include without limitation the entrant's submission and, with the freely given and informed consent of the entrants, their name, location, artistic materials and/or text, biographical information provided by the entrants/winners and/or any statement made by them concerning the competition and/or the prizes. Entrants acknowledge that any or all such elements may be required to be used by Precious Pages and its licensees in any and all media in perpetuity throughout the world as Precious Pages and its licensees in their sole discretion see fit but Precious Pages and its licensees shall have no obligation to include an entrant in any publicity whatsoever.
CONTACT
If you have any questions about the competition, please send us an email at preciouspagesr@gmail.com.